The KC-30 Enclosed Synth Cart
We're back to talk about the KC-30, our enclosed synth cart.
Our product list described this cart as:
42" H x 68" W x 24" D, 1" Square Steel Tubing, Texture Black Powder Coat, High-Density Texture Black ABS Panels, Standard Stainless Steel Hardware, 33" Keyboard Shelf Height, Shock-Absorbing Black Polyethylene Keyboard Shelf, 1.5" Internal Accessory Rail, 1 Power Inlet Linked to 2 Internal Outlets,
Two (2) 1/4" Instrument Jacks with Leads Internally (custom Wiring Available, inquire for Pricing), Built-in Rear Cable Drop, 1" Square Tube Construction, Removable Top & Back Covers, 8u Space Rack, Lower Storage Compartment for Top Cover, 39" Lower Shelf Storage Space, FREE Laptop Tray, 8" Flat-Free Swivel Locking Casters (4)
Now let's take a closer look at this cart!
Similar to the KC-15, this cart was designed with a synth in mind. The foam shelf is 60" x 16" and it sits 33" from the ground. That said, if the KC-15 is vanilla ice cream, the KC-30 is moose tracks.
Let's work our way from the top down... For your convenience, the KC-30 has a 1.5" square tube internal accessory rail- meaning you can mount anything over our keyboard (think samplers, keyboard controllers, electronic pads, etc.). Oh, and we also throw in a free laptop shelf for our very favorite customers (a.k.a. everyone).
Movin' on down... Obviously we've got the foamed shelf but the real magic happens below that level.
The bottom section of the KC-30 has eight rack spaces on the left as well as a single power inlet with two internal outlets. (So... you can plug your power conditioner and whatever else directly into the cart, roll onto the field, and only worry about running power to the cart!)
If that's not "high tech" enough for you, the cart is also equipped with two 1/4" instrument jacks with internal leads.
If you're sitting there thinking, 'Wow, this cart has it all', then we might just have to agree. If you're sitting there wondering whether or not you could switch those 1/4" jacks for something else, the answer is yes! Mention to your sales person what you need on the cart and PI will make it happen.
The KC-30 is an enclosed cart so it comes with a top cover and a back cover... and a handy little storage shelf underneath for them. Also, the bi-fold top cover is an option with this cart, but we'll get into that next week.
Did we leave anything out? Are you ready to place an order right now?! (If so head on over to our updated DEALERS page!) Got a question? Shoot us an email (sales@pageantryinnovations.com) or check out our Facebook or Twitter pages!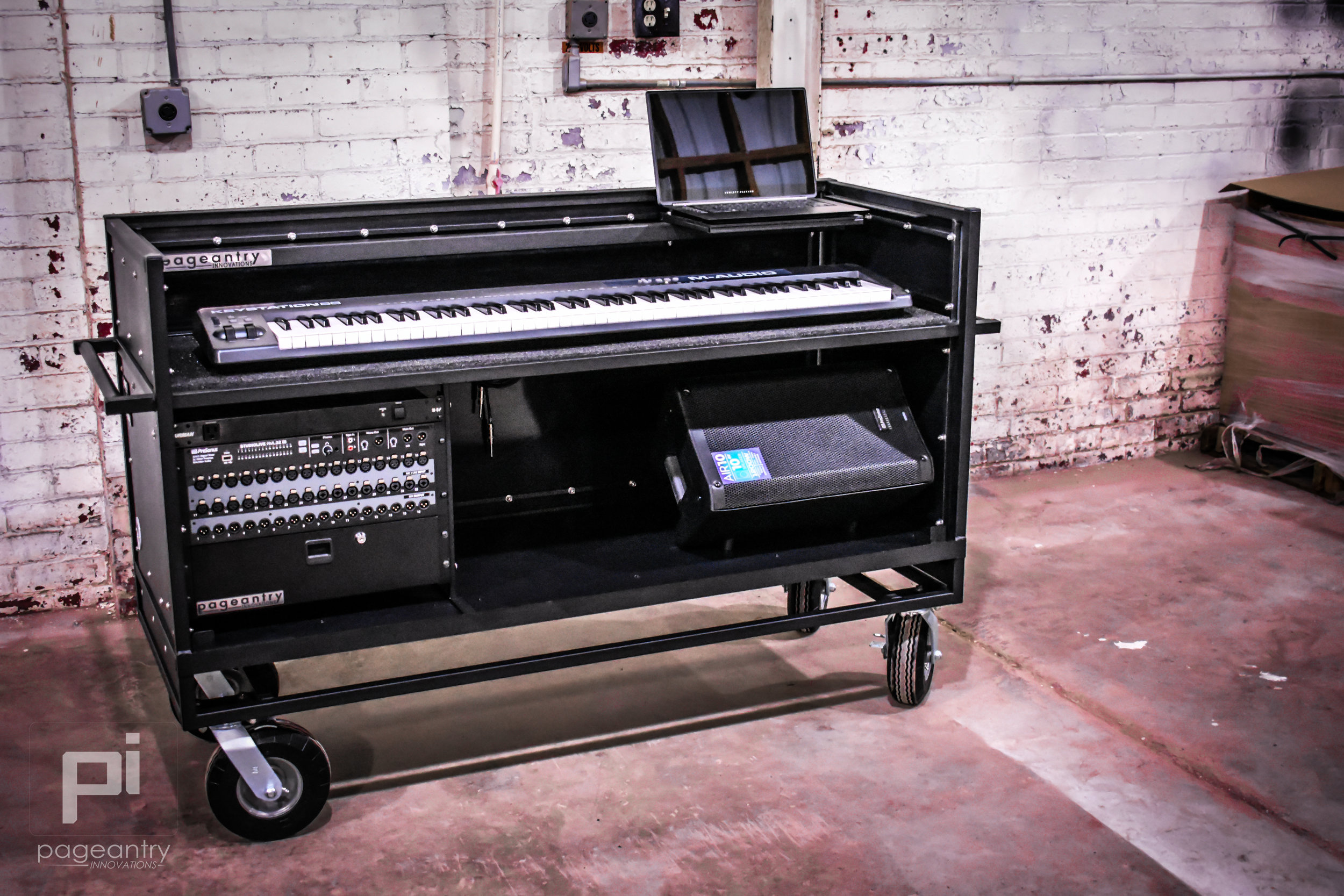 KC-30 Enclosed Synth Cart